20. 04. 2015
*Disclosure; this is a sponsored post from Comicpalooza, I'm taking part in this campaign has one of their official bloggers. But come on, y'all know what a nerd I am, this is 100% all me!
Guys, I'm such a huge fan of Houston Comicpalooza (May 22-25) , which is why I'm so excited to not only have a have a coupon code for y'all, but also a giveaway for a 4 day, 4 pack of passes!
I went in 2013, y'all, I was with my people. It was amazing & family friendly to boot! Tons of awesome people to meet, this year some of my favorite Avengers are there, yes, Jeremy Renner , Cobie Smulders,  & Haley Atwell along with the father of Marvel, Stan Lee! Also, I can't another important Father, Mr. Malfoy himself, Jason Isaacs (he was also on the West Wing)!
Between meeting & greeting, you also have the chance to check out some amazing panels, curious about all the folks walking around not only in costume, but in character, check out Adventures in Cosplay! Because I guarantee you will see more people in uniform than out. And it's awesome.
Not only that, you will have the chance to join in on some awesome game, click over here to the game menu to check out what is offered. If you don't see the game that's your jam, just wait, stuff is being added all the time.
Now, on to what everyone is waiting for! With the code HoustonNerdsUnite you can get $5 off 4 day passes, or $3 off a 1 day pass. For the giveaway, just enter below

a Rafflecopter giveaway

14. 04. 2015
Have y'all ever had those moments? When you're elbow deep in winter clothes from 1998, & you just think, "Spring Cleaning can bite me". Yea. That has been my last two weeks.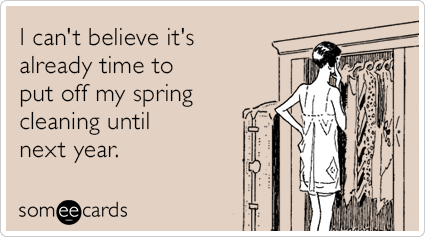 I don't even know why I have tried, I honestly don't. I will get allllll the crap that I have to either donate, or put in one of those vacuum bags out. I will put it in crazy piles, & then get distracted by Netflix (which is kinda my life).  Seriously though. I will literally work my ass off, like the hardest work of my life for a full five minuets, then something good happens on Vampire Diaries (I'm rewatching now) & next thing you know I'm belly down on my bed watching angsty teen vamps & surfing Instagram like some really cool beached whale.
Next thing I know the timer to get my kid from the bus stop is going off, my house looks like crap & I have no idea what my family is eating for dinner. But God-bless my kid, he will work his little tail off & get good marks at school so he can choose dinner. Kiddo chooses pizza all the time, I love him. So that buys me a little more time until the hubby comes home. Then I make it a game to sucker the kid into helping. But the kid is smart, & he's on to me. He will straight up tell me that it's my chores (okay, not in that sassy I don't mind way, but in the legit, that's my make up way) & wonder off to play Minecraft & read to the dog.
Please tell me I'm not the only one who just absolutely sucks at Spring cleaning?
27. 03. 2015
Man has it been a week, I thought I killed my laptop (I didn't), I broke a dish on my head (ouch!) & I tried to film this video no less than seven times. OMG. Watch below for lots of amazing things, plus a BIG Comicpalooza announcement!
The other lovely ladies!
Meg: http://www.megoonthego.com | http://www.youtube.com/megoonthego
Bree: http://www.thethingaboutjoy.com | https://www.youtube.com/channel/UCKw9EGjzY0_QRHcJOoK7yyw
Tabitha: http://www.freshmommyblog.com | https://www.youtube.com/user/TabithaRochelle
Tawnya: http://www.littleadventuresblog.com | https://www.youtube.com/channel/UCZn1N0xM1wbwgLf_mBM5j8Q
Kristy: http://www.sevengracesblog.com | https://www.youtube.com/channel/UCj3T2mGocUY42GbjPLzOYLQ/
Whitney: http://www.theobservantturtle.com | https://www.youtube.com/channel/UCc6iNtdNGbYEBgge63HTRxg
Productions Mentioned:
Piggy Water Color Print- https://www.facebook.com/helene.little.50
iPhone 6 case- http://amzn.to/1HQStYt
Houston Comicpalooza- http://www.comicpalooza.com/
23. 03. 2015
Ain't that the truth? I'm coming at y'all today with a book review! All Mascara is Not Created Equal by Jessica Landmon. Here's a little preview from Amazon;
The world is marketing lifestyles that contradict the way that God has called us to live. Lying, selfishness, and justification of all types of sin are just a few lessons our youth are being sold. In All Mascara Is Not Created Equal, Jessica Landmon attempts to reach the hearts of young women, providing spiritual, practical, and humorous tips in short, "tweet-like" form to help them live the life that God would approve of.
Yea, let that sink in! It's a deep subject in a great gift book. The illustrations are adorable & I love the scripture she has chosen. There is also non-scripture inspired quotes. It's the great pick me up for the special lady friends in your life. It's one of those books that will make you stop & think. Below is a part of the introduction.
Facebook, Instagram, Twitter and other social media are sending mixed messages about the way we, as women, are to live our lives. Catch phrases like "YOLO" and "swag" are distorting the ideals that we should strive for. Women have more to contribute to society than being sexy, and we certainly shouldn't attach our worth to how many likes we get on a selfie. 
YES! YES! YES!
Ladies, we are so much more than "likes", let us not forget that. This book helps you remember that! I plan on passing this book on to my niece, she has just started getting really into social media & is now on YouTube. I feel this is something important for her. It's important to all of us. It's empowering.
Don't just take my word for it, check it out for yourself! What are some things that inspire & motivate you?
19. 03. 2015
Do you ever feel the need to escape city life & get out to the country? If you don't then you are probably like my kid when I say such evil words as "no wifi". But me? I love it. Thankfully I have some family that lives in Brenham (about a two-hour drive from Houston) & I try to get up there as much as possible to visit them.
I love how laid back everything is, plus seeing the night sky out the city is amazing. It was great to be able to share it with P as well. I have been up a few times this year already to help my Aunt after some surgeries she had, but this time I got to take my favorite little guy with me! It's been a few years since we have gone together & seeing him run around & play with the donkey has me wanting to look for houses up there (the only thing that is stopping me is their lack of Target).
Boudreaux the donkey is the funniest donkey I have ever met (okay, I haven't met more than three I think, but still). He like to pose for the camera. If I walk out into the pasture & start taking pictures of things that aren't him he starts making all sorts of angry donkey noises. The second I point the camera in his direction, he finds his light & starts posing.
We walked around downtown Brenham & did a little shopping. We had lunch at Must Be Heaven, they have sandwiches & a malt shop. They also have these creepy things.
My Aunt called to tell me we had been invited to a birthday party at a local ranch. This place was amazing! I had some of the best BBQ I had ever tasted, & saw one amazing Texas sunset.
A photo posted by Katie (@thenerdykatie) on
I also took this picture with my handsome date, who was minding his p's & q's!
A photo posted by Katie (@thenerdykatie) on
I can honestly say it was a wonderful weekend!I can't wait to go back & take some more pictures, I saw a red tailed hawk on my way out that need some attention
I hope everyone else had a great start to Spring Break!